The goal of organizing special events for the Catholic Women Religious is to bring them together in a spirit of celebration, to recognize their important contributions to our society, and to provide a forum for people to thank them and appreciate all they have done.
Caritas Award Banquet - April 22, 2015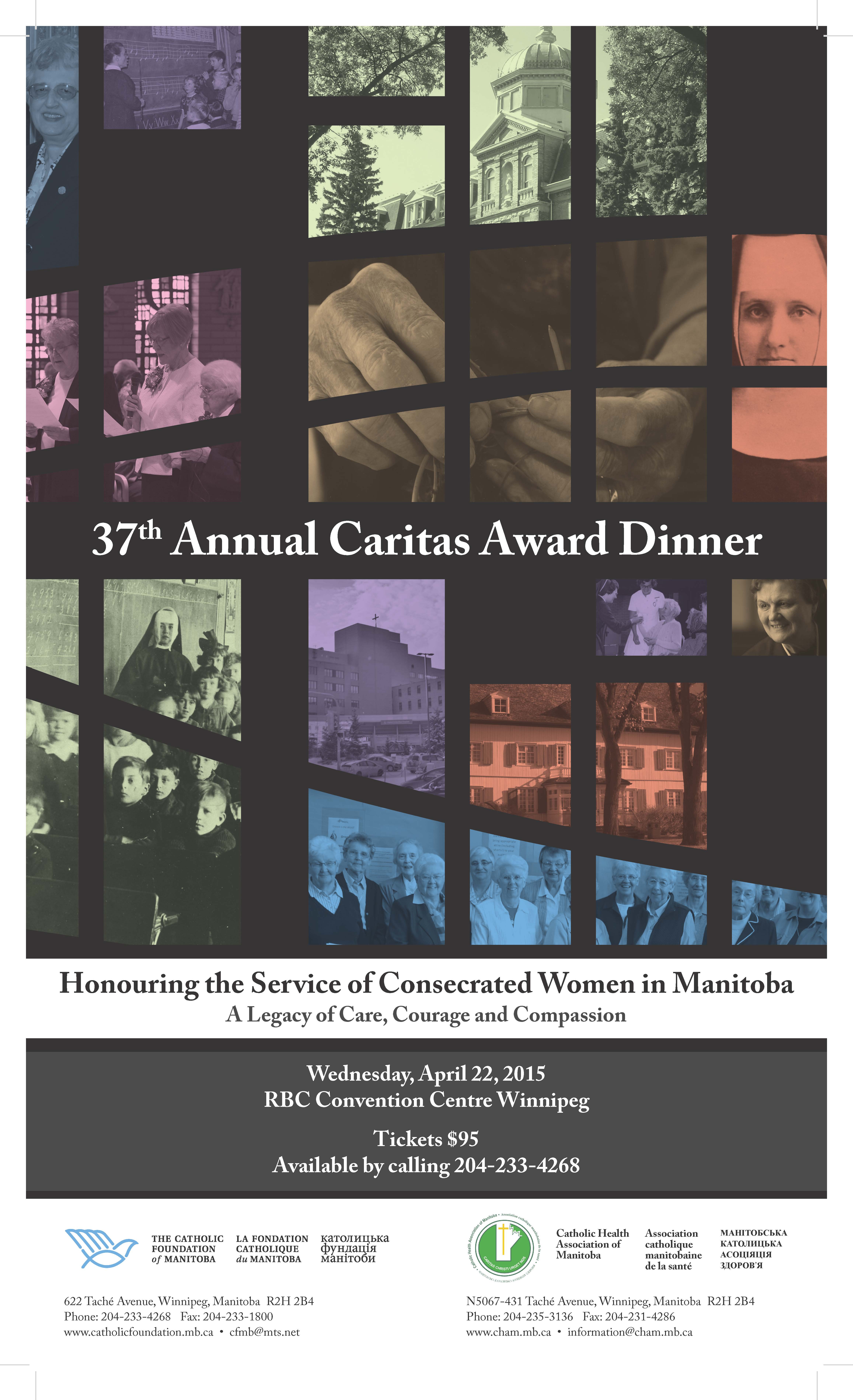 This year the Catholic Foundation of Manitoba in collaboration with the Catholic Health Association of Manitoba (CHAM) is pleased to honour the service of all consecrated women Religious in Manitoba. This is an opportune moment for the two organizations to collaborate in honouring women Religious as CHAM has undertaken their two year Legacy of Care, Courage & Compassion initiative project to recognize, honour and celebrate Manitoba's women Religious who have served, those that continue to serve and their legacy of compassion and caring. The Caritas Dinner this April is a major kick-off event in CHAM's two year project and for the Catholic Foundation of Manitoba it is our annual fundraiser and celebration of Manitoba's Catholic community. Both organizations are also pleased to honour Religious Women at the Caritas Dinner during 2015 which his Holiness Pope Francis has designated as the Year of Consecrated Life in order to recognize those who have responded to the call to follow Jesus Christ in a challenging way and have taken vows to leave some aspects of the world to put themselves at the service of their brothers and sisters.
The Caritas Award Dinner attendance has averaged 750 persons in past years with those in attendance representing people and communities of varied walks of life and interest but who are united by their desire to foster Catholic values and community improvement for the sake of all Manitobans. It has become the premiere annual celebration of the Catholic community which honours the contribution of key people and organizations to the Catholic community in Winnipeg and across Manitoba.
Tickets are $95 each and may be purchased individually or for groups of ten (10). All seating will be pre-assigned. Tickets will not be sold at the door. For tickets or more information, please contact the Foundation at (204) 233-4268 or e-mail: cfmb@mts.net.
International Women's Day - March 8th, 2015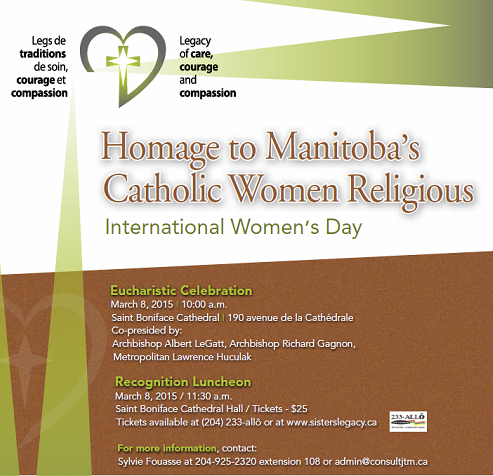 The launch of Legacy of Care, Courage and Compassion took place on International Women's Day - Sunday, March 8th, 2015.
A tri-lingual Eucharistic Mass co-presided by the Archbishops of Saint-Boniface, Winnipeg, and the Ukrainian Archeparchy of Winnipeg took place on March 8th, 2015 at the St. Boniface Cathedral. A Recognition Luncheon that included beautiful tributes, testimonials, and entertainment by Singer/Musician Ginette Roy, and the Selo Ukrainian Dancers, took place following the mass.
We invite you to read the following persons testimonials shared during the Recognition Luncheon:
Archbishop Richard Gagnon, Archdiocese of Winnipeg - Tribute on behalf of the Archdioceses of Winnipeg, St. Boniface and the Ukrainian Catholic Archeparchy
Premier Greg Selinger, Province of Manitoba
Raymonde Gagné, spokesperson for the Catholic Health Association of Manitoba
Rosie Jacuzzi - spokesperson for the Misericordia Health Corporation
Raymond Lafond - CA and past Executive Director of the Catholic Health Corporation of Manitoba

Connie Yunyk - President of St. Mary's Academy
Myron Musick - representatives of the Ukrainian Catholic Community
Patricia Gendreau - former student and teacher in the Manitoba's Francophone community
Please view the Photo Gallery in the News and Media section of this web site for images of the Eucharistic Celebration and Recognition Luncheon