About the Legacy of Care, Courage & Compassion
Manitoba has been abundantly blessed by the many sacrifices and works of the Catholic Sisters, who since 1844, have contributed greatly to the foundation of the health, education, and social service systems in the province of Manitoba by founding the first hospitals, orphanages, some of the first schools, homes for the aged, and other social service agencies. These courageous women overcame and continue to overcome numerous obstacles and sacrificed much to provide care for the sick, poor, uneducated, and disadvantaged throughout the province of Manitoba. ur ti
The Catholic Health Association of Manitoba (CHAM)[1]has committed to lead a two-year initiative that will acknowledge, commemorate, and celebrate Manitoba's Women religious who have served and continue to serve in our communities. The initial concept phase of this project began and 2013, and the Legacy Project was launched in March 2015. Various elements of this initiative will carry through to December 2016.
CHAM's Legacy of Care and Compassion Project is in keeping with Pope Francis' designation of 2015 as the year of the 'consecrated persons'. He states: ''the consecrated are those who 'can awaken the world'. Consecrated life is a prophecy. God asks us to fly the next and to be sent to the frontiers of the world, avoiding the temptation to 'domesticate' them. This is the most concrete way of imitating the Lord.''
We welcome you to peruse through the various areas of our web site, submit testimonials, photos, poems, participate in events, and contribute in whichever way is possible for you.
[1] CHAM is comprised of the Archbishops of Manitoba, the Catholic Health Corporation of Manitoba, the Misericordia Corporation, the Sister Servants of Mary Immaculate, and eighteen (18) health and social care organizations in Manitoba.
Recent News
Soul Sisters : Documentary Screening
January 18, 2017
An intimate glimpse into the lives of the Catholic Sisters of Manitoba, this documentary is part of the two-year tribute to Religious Women led by the Catholic Health Association of Manitoba. Showing at Cinematheque Feb. 3, 4, 8, 10, 11. For details, check Cinematheque's movie listings. Watch the trailer
Book Launch & Premier of Soul Sisters
September 21, 2016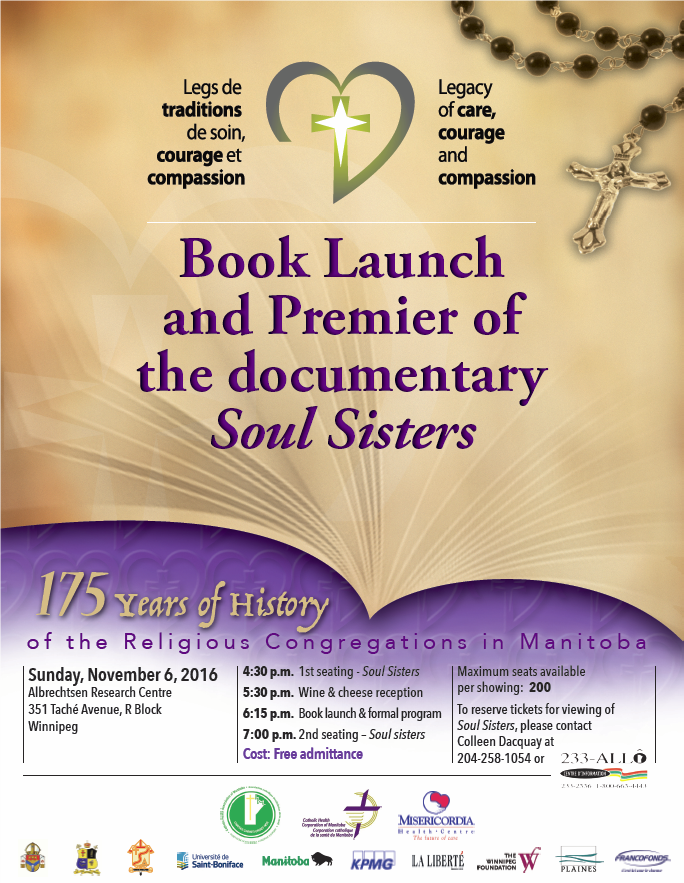 Sr. Ilia Delio Keynote a huge success
September 16, 2016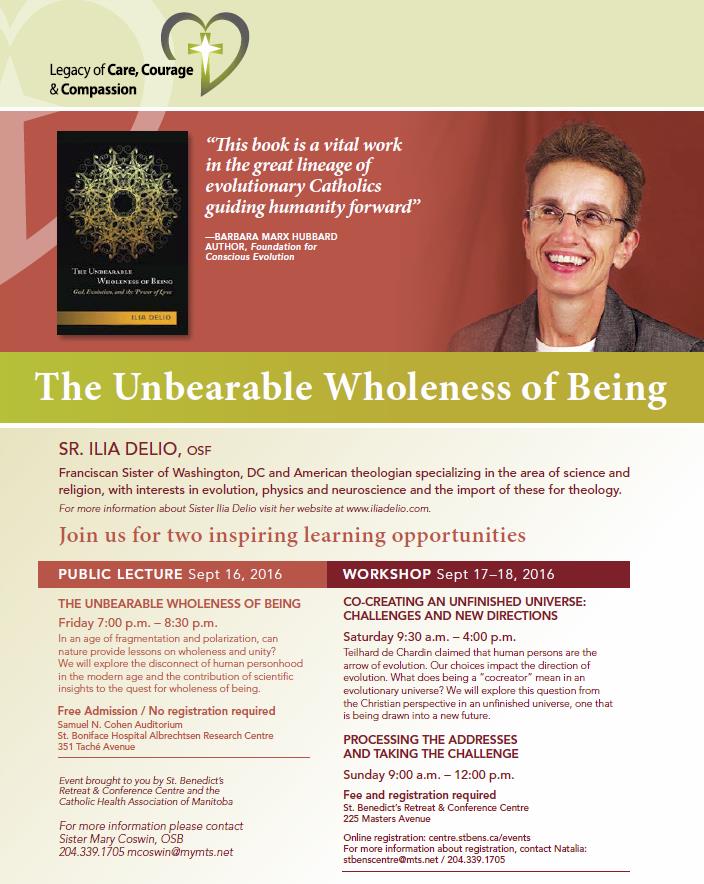 Two hundred people gathered at the St. Boniface Albrechtsen Research Centre on September 17th to listen to Sr. Ilia Delio, a Franciscan sister, speak on the subject of 'The Unbearable Wholeness of Being'.
This Legacy of Care, Courage and Compassion event piggy-backed into the 7th Annual Peace Days festival in Manitoba.
A workshop with close to 100 participants ensued on the weekend at the St. Benedict's Retreat Centre.
The Lance of Canstar News showcases monument unveiling
July 14, 2016
Click HERE to view the page dedicated to the monument unveiling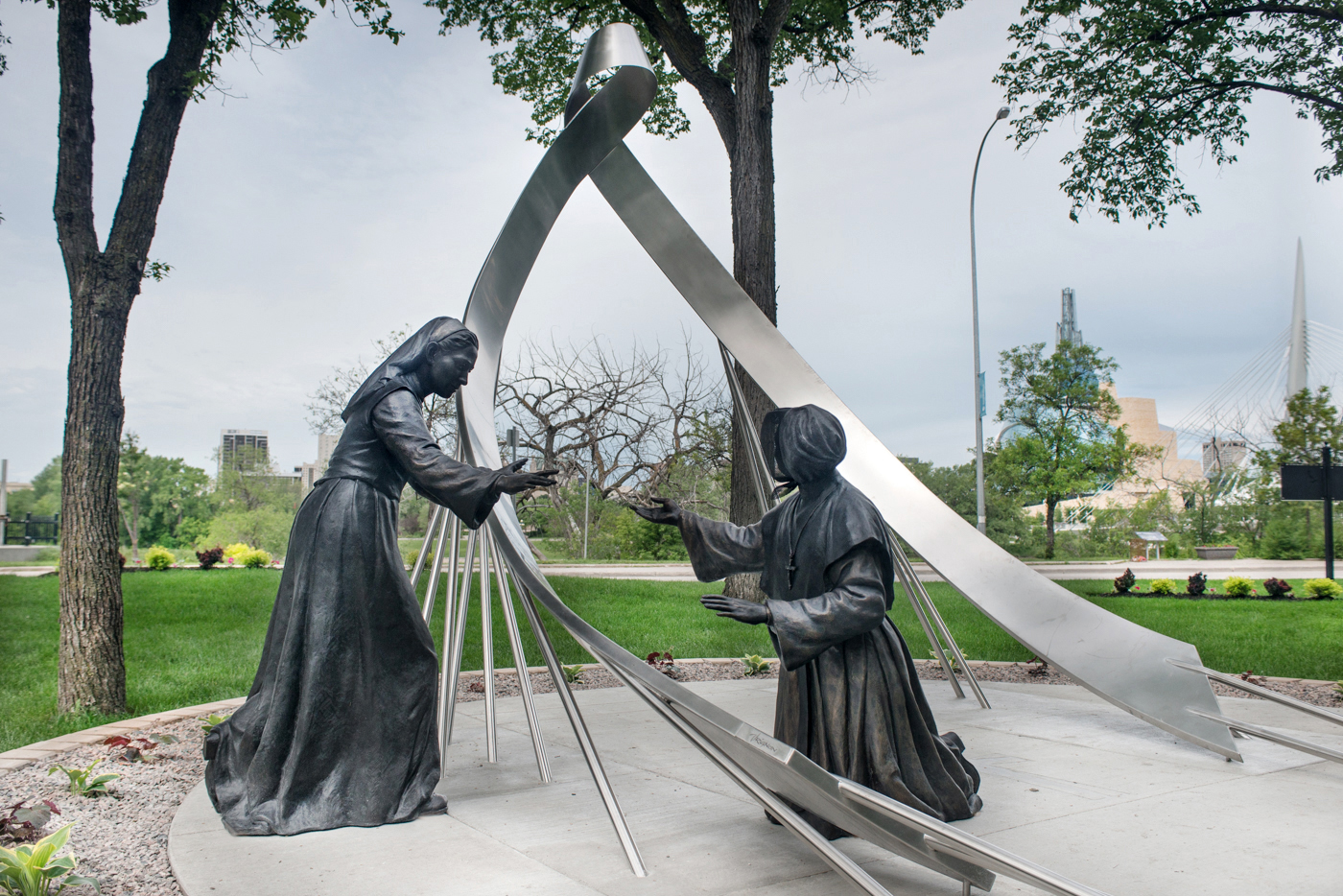 Inspiring Upcoming Conference in September
July 12, 2016